There had been plenty of criticism for Chelsea since that aborted attempt to move their FA Cup quarter-final against Middlesbrough behind closed doors,
plenty of people lining up to kick a club apparently refusing to adjust to their new austere reality, but on these nights it can feel like nothing suits them more than having a point to prove and a fight to win.

The sense was this is how Chelsea like it: a hostile crowd on their backs, impertinent opponents, the weight of the world on their shoulders. The Lille fans were up for it and they were dreaming of an upset when their side went ahead in the first half, Burak Yilmaz converting a penalty after Jorginho was penalised for a clumsy handball following a VAR review.

Chelsea had not played well and in truth the notion of them retaining their European crown might seem fanciful on the basis of this performance. "I want us to be the team nobody wants to play," Thomas Tuchel said as he looked ahead to Friday's draw for the last eight but he will know there is room for improvement: gaps to plug at the back and more creativity required in attack.

All the same this was a reminder that Chelsea have not lost the art of grinding on a difficult European night. They were level when Jorginho created Christian Pulisic's excellent equaliser, the midfielder redeeming himself with a gorgeous pass that split Lille wide open, and there was also something comforting about Cesar Azpilicueta marking his 74th appearance in Europe by scoring the winner in the second half.

Leaders like Azpilicueta keep standards high and his goal, a kneed finish from Mason Mount's devilish ball, ensured that the European champions had continued to block the outside noise by extending their winning run to five games. "This is what Chelsea is about," Tuchel said. "It brings out the best in you."
The challenges keep coming. Before the game there was confirmation from Uefa that Chelsea, operating under a restrictive licence because of the sanctions imposed on Roman Abramovich, will not be permitted to have supporters present at home games for the rest of their Champions League campaign. "Thanks for ruining my evening," Tuchel said after being informed of Uefa's decision "I was in such a good mood."
Full of good humour and intelligence, Tuchel had the room in the palm of his hand. The German has shown moral leadership ever since it became clear that Abramovich's ownership could not continue and he was impressive again when the discussion turned to Chelsea's ridiculous request to have no supporters present when they visit Middlesbrough on Saturday.
"That was our responsibility," Tuchel said. "Not mine or from the team – let me put it like this, we love to play in front of spectators and I don't think spectators of our opponents should suffer from the consequences.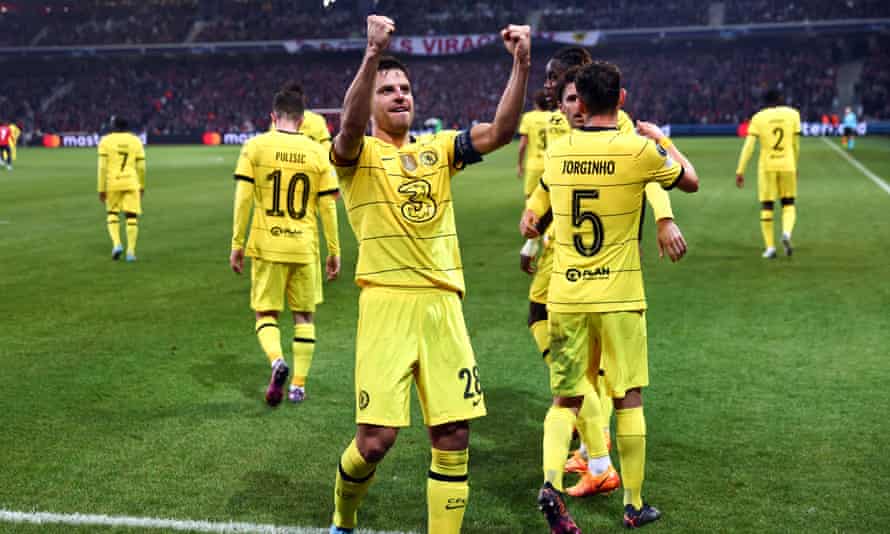 César Azpilicueta celebrates scoring Chelsea's winner in France.
"I think the proposal was withdrawn and it was absolutely the right thing to do because that was from our side and hopefully was not meant like this. It was not the best idea. I'm happy it was withdrawn."

The sense is that Chelsea will be fine as long as they have Tuchel, who is attracting covetous glances from Manchester United. He is settled at Stamford Bridge, though he could do with less drama. His selection here suggested as much, the sight of eight defensive players behind Kai Havertz and Pulisic a clear sign that the visitors were focused on containment over entertainment.
As the half wore on, though, there was a sense of Chelsea's caution inviting trouble. N'Golo Kanté, Jorginho and Mateo Kovacic were too defensive in midfield. Azpilicueta and Marcos Alonso were reactive on the flanks and there were difficulties after Andreas Christensen limped off.
Trevoh Chalobah replaced Christensen and within a minute the young defender brought Jonathan David down. The free-kick led to a scramble and Lille screamed for a penalty when Jorginho handled as he challenged Xeka. It was a blatant handball and although Davide Massa missed it, the Italian referee pointed to the spot after checking the pitchside monitor, allowing Yilmaz to give Lille hope by scoring from the spot.
Yet Chelsea were not behind for long. Just before half-time they equalised in splendid fashion, Jorginho seeing a chance to make up for his part in Lille's goal. The Italy international's pass was beautiful, bent with the outside of his right foot, and Pulisic ran in from the right before clipping an angled shot beyond Leo Jardim. Not that Tuchel was satisfied. Chelsea were playing in bursts and Tuchel used the interval to tweak his formation, the introduction of Mount for Kovacic giving Lille more to worry about at the back.

Yet Lille refused to lie down. They almost led again when Jonathan Bamba crossed for Yilmaz to head inches wide, then when Xeka hit the woodwork with a free header. Lille would regret those misses. With 19 minutes left the tie was out of reach, Mount darting down the left and crossing dangerously. Timothy Weah was dozing and Azpilicueta charged in, kneeing the ball past Jardim to give Chelsea a fleeting sense of control over their destiny.

---