There had been times, even at such an early point in his Arsenal career, when the unrelenting scrutiny that accompanies a price tag was a visible millstone around Kai Havertz's neck.
His teammates knew it and, on an afternoon that could hardly have gone more smoothly from their perspective, decided to lighten the load. A one-sided match was already half-won when Ryan Christie lunged messily at Martin Ødegaard eight minutes after half-time, giving them their second penalty and a chance to move out of sight. Bukayo Saka placed the ball but, to cheers from the away support, promptly elected to step aside.
Up walked Havertz and, even if the day's stakes were relatively low by this point, a neutral might have felt a flutter of anxiety on his behalf. He has not played badly since making the inherently risky move from Chelsea, primarily to operate in midfield, but even a cod body language analyst would have been justified in observing a lack of confidence around opposition 18-yard boxes. Fluffing his lines here could have opened a fresh can of worms but he sent Neto the wrong way unfussily and, with Gabriel Magalhães as chief cheerleader, was encouraged to milk the faithful's acclaim.

"If there's a player who deserves that it's Kai Havertz, I'm so happy for him," Mikel Arteta said. "I'm really happy for the win, but even happier to be part of a team that shows the human qualities they did today. Without me telling them anything, to show that empathy to a player that has some question marks to resolve externally, they warmed me even more."
The goal put Arsenal three up and helped ensure that, with additional thanks to events at Molineux, they sit on Manchester City's tails before their meeting next Sunday. Bournemouth offered little resistance, making a game of it only until Saka nodded a 17th-minute opener. He showed a poacher's instinct sits within his vast suite of skills after Gabriel Jesus, who had perhaps meant to locate a colleague, headed against the near post from a tight angle. The outcome was all but assured from there.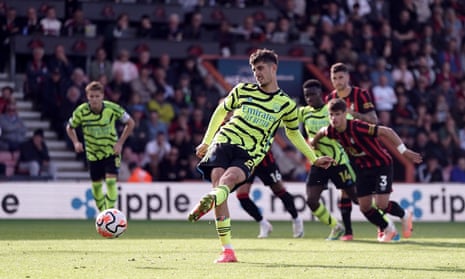 Kai Havertz scores from the penalty sport for Arsenal.

 Photograph: Robbie Stephenson/PA
"We read the game very well and earned the right to win it," Arteta said. Arsenal's only scare came early on when Dominic Solanke appeared to have got away only for William Saliba, one of several pre-match doubts who pulled through in time to start, to thwart him with a cocktail of recovery and timing. They repelled Bournemouth's probings and struck again before half-time when Eddie Nketiah, sent down the left by a one-two with the excellent Oleksandr Zinchenko, lured Max Aarons into a mistimed sliding challenge. Ødegaard assumed spot-kick duties in the first instance, converting calmly, and it meant Arsenal were comfortable enough for Havertz to have his day later on.
Arteta suggested it could "change everything" for Havertz and referred to a famous line from Usain Bolt, in which the sprinter pointed out it took four years to train for a nine-second time. Arsenal kept up the pace for the remainder, the substitute Emile Smith Rowe coming close twice and a garnish arriving in added time when Ben White headed in an Ødegaard free-kick.
Bournemouth remain winless after a testing early run and hope a softer-looking October will give Andoni Iraola's reign an uplift. The trailed battle of wits between Iraola and Arteta, boyhood teammates at Antiguoko in San Sebastián, never caught light. "It's the first time I've felt we weren't at the level the competition required," Iraola said. "We need to be at our best to compete against this kind of team and we weren't."

The only note of concern for Arteta was a familiar one, Saka limping off in clear pain 14 minutes from time. Arteta referred to a "stamp", seemingly on the same foot that took a blow against Spurs the previous week. Saka will, like Arsenal, doubtless go again. "It's a long marathon," Arteta said, dampening title talk, but he could openly rejoice that Havertz is building momentum at last.

---