When Kevin De Bruyne made it 3-0 for Manchester City early in the second half, his second goal of the evening an almost casual finish, there were four Arsenal players in the vicinity who bent forward at the waist, utterly broken, simply wanting to take on a bit of oxygen. This is what it feels like to run into a juggernaut.
City had been remorseless from the first whistle, an irresistible blend of pace, power and cohesion, intent on making it plain to the pretenders to their Premier League throne that they are in no mood to stand down.
Mikel Arteta had said beforehand that his Arsenal team needed to win to remain in contention. They had drawn their previous three matches, the last two against West Ham and Southampton prompting harsh questions about their ability to handle the pressure.
To be clear – Arsenal have not bottled it. They have defied expectations to have an excellent season. They are just not on the same level as City, particularly in this kind of mood. Nobody is, perhaps in the whole of Europe. No club has their talent or the depth of it.
It was a night when Erling Haaland was frightening to watch from the press box so goodness knows what it was like for Rob Holding and Gabriel Magalhães in the centre of the Arsenal defence. The City No 9 had too much strength for them, which was a big problem. But he was too quick, as well, which made him virtually unplayable. There were times when he seemed to bulldoze through, when it actually felt unfair.
t was a traumatic night for Arteta, when his players started badly, losing the one on ones, when they were nowhere near to their best levels. Did they really believe they could win? It did not look like it. Maybe they are just realists.
They were able to dig in at 3-0 and Holding even conjured a consolation goal with a firm finish. But it was not over. Haaland had taken out his hair bobble in stoppage time, allowing his long locks to flow. It felt as if he was saying that he was finished. He was not. Phil Foden, on as a substitute, produced a fine piece of control before playing in Haaland and he stroked home for his 49th goal of the season in all competitions.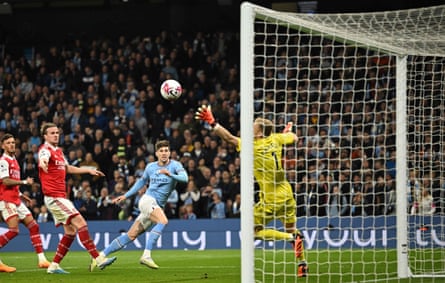 Manchester City's John Stones scores their second goal past Arsenal's Aaron Ramsdale.

Arsenal are still top of the table, which was easy to forget in the heat of the moment, in the disappointment of their display. Yet City are only two points back and with two games in hand. Moreover, they are on a roll that shows zero sign of stopping. It is 17 unbeaten for City in all competitions, 14 of them wins and two of the draws were in the Champions League, which did not affect their progress to the semi-final. They have won 12 straight against Arsenal in the league.
The numbers merely reinforce what the eyes are seeing. De Bruyne was outstanding, the perfect partner for Haaland but, from front to back, it was difficult to fault anybody in sky blue. Arsenal were fortunate to escape a drubbing.
City pressed ferociously at the outset, they ran hard, sometimes straight through their opponents. The opening goal was too easy, Haaland taking a touch with Holding at his back and laying off for De Bruyne, who was already into his stride. He ran unchallenged, veering around Magalhães towards the edge of the area and guiding a low shot past Aaron Ramsdale.

City teemed with intensity, nobody more so than Pep Guardiola. He was on the pitch, incandescent, gesturing at the officials after Bernardo Silva had been penalised for a 12th-minute trip on Granit Xhaka. The City manager lived every moment, the nervous energy rushing through him. He had wanted an early penalty when Thomas Partey moved to protect the ball and, in the process, blocked De Bruyne from shooting. The City player kicked him and went over. The non-award was correct.
There was one moment before the half-hour when Arsenal worked a long pass up the channel for Bukayo Saka and Guardiola, both knees on the turf, began to hammer the ground with his fist.
He perked up when Jack Grealish got back to tackle and it was an extremely isolated first-half thrust from Arsenal. They could not get out, City flooding men around them, suffocating them.
How Haaland did not score before the interval was a mystery. He had four good chances, three of them kept out by Ramsdale and smartly, too; the other was banged wide after a surge in which he tormented Magalhães. De Bruyne also saw an effort blocked by Ben White on 27 minutes.
John Stones scored the second in first-half stoppage time with a free header from De Bruyne's free-kick; it was given after the VAR spotted that the centre-half had been played onside by White on the far side.
City were robust in defence, Guardiola's selection of Kyle Walker at right-back bringing enviable pace on the cover. Not that it was needed too often. Manuel Akanji filled in at left-back for the injured Nathan Aké without missing a beat.
It was over when Martin Ødegaard left a pass short on 54 minutes, too close to Haaland, who gobbled it up and barrelled off. Moments earlier, he had been denied one on one by Ramsdale. Now he played a pass to De Bruyne, who steered the ball through Holding's legs and into the bottom corner.
---