At times in the first half of this thrilling, occasionally messy Premier League fixture, there was a sense of two games taking place simultaneously. In the foreground the feature presentation: a tight, bruising affair, and a meeting of two depleted teams who have spent much of the season trying to bolt their own wheels back on while speeding through the weekly chicanes. A 2-1 victory here was Liverpool's first away league win this season.
Behind this was the other game, the one taking place in the Darwin Núñez universe. This was a looser, chancier affair, a place where the physical rules are a little more vague but which seemed, at times, to bleed through into the real world, to exist alongside it.
It was at these moments, drifting through into the Núñez-verse, that Liverpool looked most energised. Mainly Núñez was just great fun to watch during his 86 minutes on the pitch, which included one assist, a twanged crossbar, endless sprints, moments of exhilaration and moments of oddity.
It is necessary to see Núñez in the flesh to really get his energy. He is a magnificent spectacle, all upright grace, loose shoulders, lithe power. Núñez is 6ft 5in. Núñez is the second-fastest clocked player in the league, just behind Anthony Gordon. When he moves he just looks a pedigree human. Some players look like a natural on the ball. Thiago Alcântara appears to have been born on the half-turn. Núñez conveys this with his movements, the easy acceleration, the hunger for the ball, with which he has a passionate, if slightly on-off, relationship with – a kind of rom-com chemistry.
Here he carried the ball with purpose at times, finding space down Spurs' right side in the first half. Núñez doesn't really dribble. He passes to himself, runs, catches up, the ball just an addendum to his splendid athleticism, snagging it under his hooves, hauling it back in, like watching a stallion trampling a beachball.
Antonio Conte hit back at Tottenham's fans for booing his side off at half-time during their side's 2-1 defeat by Liverpool on Sunday. Spurs were made to count the cost of another slow start after an impressive second-half comeback failed to yield a late equaliser.
Two goals from Mohamed Salah were enough for Liverpool to earn their first away win of the season but Conte was not unhappy with his side's performance. The Italian argued Spurs deserved a point and he said that their fans have to understand that their side are a work in progress.

"First of all, I think that we have to show in every moment a great respect to our fans because they are our fans," Conte said. "They pay for their tickets. At the same time, if you ask me if I was happy or disappointed, yes.
I continue to repeat since from the start of the season that we have just started a process and I think after one year we made a lot of improvement. If someone thinks we are already ready to win, I have to be honest and tell you it will be really, really difficult because when you start a process you need time and patience.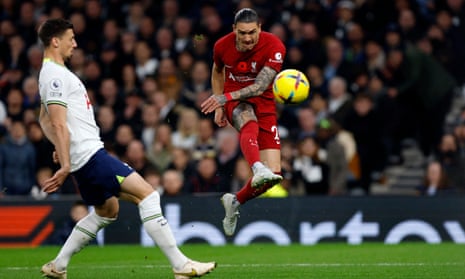 "If you understand this, everybody is OK. Otherwise we can lose the passion, the enthusiasm. I can't promise, in this moment, trophies to our fans. I continue to ask for time and patience because I have the experience to do this. We are far from other teams that are used to winning. If we understand this it will be good. Everybody wants to win, I am the first but we need time and patience."
Spurs, who have ceded third place to Newcastle, were given hope by Harry Kane's goal. But Liverpool, who are seven points behind Conte's side, dug deep for the points. 

"We had to keep fighting," Jürgen Klopp said. "We did that. We like that. People who know us know if you want to win an away game this is a normal way to do it. This is a completely normal game for us. We drew twice against Tottenham last season, so winning here is incredibly difficult. We have to show this attitude and commitment to defending. We have to show that we are not punched too hard when we concede a goal."

For all his occasionally random qualities Núñez is also relentless. At one point he just ran past Eric Dier to the byline, sweeping the ball along in a wide arc, as though dragging it on a piece of string, but leaving Dier for dead all the same. A little later Rodrigo Bentancur tried to jockey him out of his stride and Núñez quivered his back muscles and left him literally face down in the turf. At times like this there is a vague sense of some future-engineered Andy Carroll, the Carroll T200,with added speed and grace, but still, at his heart, that old snorting fury.
Núñez also helped make the opening goal from that left side. Firmino came deep and played a lovely little flighted dink out to Robertson. His pass inside found Núñez, who had time to look up and see Salah free to his right. The pass was just the right weight for Salah to flip it up and bury it low and hard into the corner.
---