Six months later, Real Madrid returned to the top of the table and at the cost of their two great rivals. Goals from Karim Benzema and Toni Kroos gave Real a vital win in a match that was played in atrocious conditions.
As a storm tore through Valdebebas, they defeated FC Barcelona 2-1 to overhaul Atlético Madrid. It might only be for one night – Diego Simeone's side travel to Betis on Sunday – but it was some night: wet and wild, the ball flying from one end to the other and to the very end, goalkeeper Marc Andre ter Stegen going up and Ilaix Moriba smashing a shot off the bar with the frantic final move.
 The frame of the goal was still shaking when the whistle went, and so too were some players, freezing and forced to change their shirts during a clásico that unfolded amidst thunder, lightning and driving rain, wind whipping through.
 Ultimately, goals from Karim Benzema and Toni Kroos in the opening half an hour were enough but that was only part of the story, Óscar Mingueza's goal setting up a final half hour that would be called frantic if it wasn't for the fact that the whole thing had been.
Madrid, though, resisted – and not just here, but all season. This was another resurrection for a manager who has something almost mystical about him, back in a place that seemed unreachable until recently.
Atlético were top for six months and disappearing into the distance, but Madrid walked a tightrope to put themselves above their neighbours now. Above Barcelona, too. Ten games they have gone without defeat; nineteen games Barcelona were unbeaten until they came here.
As these two chased down Atlético, knowing they could afford no errors, obligation eventually become opportunity, and in a lively start here Madrid grasped it. Two early goals demonstrated the value of the willingness to run, a portrait of a pair of men who should be the club's future. They also, in truth, offered an unflattering portrait of Barcelona's defence.
A brilliant opening goal began with Fede Valverde – part-man, part locomotive –setting off from deep. By the time he had picked up speed, stopping him was difficult anyway; stopping him by waving a leg in his rough direction was even harder, but that was what Jordi Alba did. Dashing past, Valverde found Lucas Vázquez whose ball in met a stunning flicked finish from Benzema.
Opened on the left, Barcelona were then opened on the right, Vinícius eventually tumbling on the edge of the area.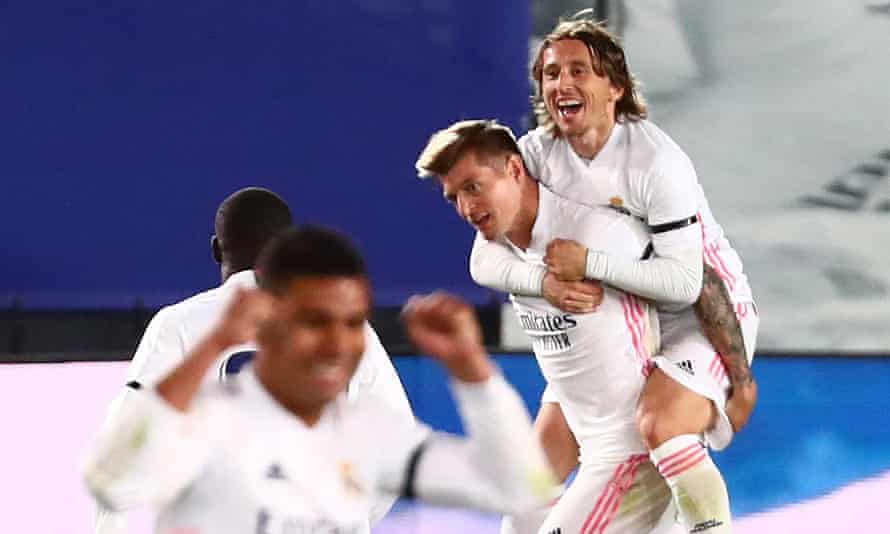 Toni Kroos (second right) joins the celebrations after his free-kick was deflected twice on its way into the Barcelona goal. 

Kroos took the free-kick and his shot hit Sergiño Dest, changed course and went in, Alba failing to head clear on the line.
Barcelona did have opportunities, Lionel Messi delivering a cross from which Ousmane Dembélé should have scored.
Dembélé also swiped wildly at the ball inside the area before Messi bent a corner against the post and was then blocked by Thibaut Courtois. And yet the game was where Madrid wanted it and if anyone should have added to the scoring before the break it was them. Another surging run saw Valverde go clear and thud against the post, Ter Stegen somehow recovering to save Vázquez's follow-up.
The second half brought a recovery, the ball Barcelona's and the territory too. And although Madrid seemed happy that way, aware of the visitors' vulnerability and ready to rip into them through sheets of rain so thick you could hardly see them, Barcelona pulled one back on the hour. Antoine Griezmann leapt over Alba's cross and Mingueza guided past Courtois.
Another Messi-Alba combination might have brought a second soon after but on the edge of the six-yard box Alba's choice was the wrong one.
The Fiver: sign up and get our daily football email
Barcelona pushed Madrid back ever deeper but even from there the threat remained, Luka Modric sending Vinícius scampering clear. A mess was made of that break and the same could be said of Kroos diving header soon after. Suddenly, Messi was up the other end, bending a shot over. This clásico was a lot of fun; alas, it was also coming to an end.
Still Barcelona chased the equaliser but time was slipping away, and soon it was gone. Martin Braithwaite tumbled and appealed for a penalty – "completely clear," the Barcelona manager Ronald Koeman called it – then headed just wide. In the final dramatic, desperate play, Ilaix Moriba crashed off the bar, Ter Stegen's shot was blocked, and Alba sent the ball just over, a wild night getting a wild finish.
---