To this day, Napoli supporters sing songs about Diego Maradona. A particular favourite goes, "O, Mamma, Mamma, Mamma, do you know why my heart is thumping? I saw Maradona, I saw Maradona. Now I'm in love."
They sang it again after the final game of last season - but with a twist. The name of one Argentine idol had been replaced with that of another: Gonzalo Higuain. It was easy to understand why. Higuain had just scored a hat-trick against Frosinone and, in doing so, he had done something nobody - not even Maradona - had done before: break Gunnar Nordahl's goals record for a single Serie A season (35).
However, Higuain is now set to do something else that Maradona never did: leave Napoli for another Italian team.
In 1990, after Maradona had led the Partenopei to a second Scudetto in three years, he was approached by Silvio Berlusconi, the president of his club's great rivals, AC Milan.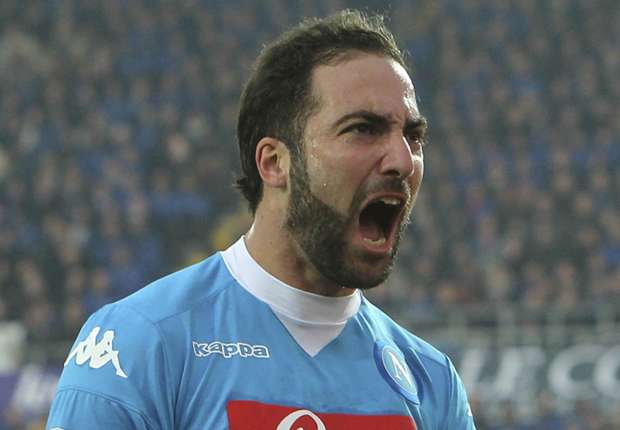 The No.10 even agreed to meet with the future Prime Minister of Italy. He was offered 10 billion lire a year (€5.2m) to move to San Siro. However, Maradona told Berlusconi, "I will never play for a team in Italy that is not Napoli. I cannot betray the expectations that the Napoli fans have of me."
Berlusconi, unsurprisingly, has a different take on why the proposed deal never materialised. "I almost signed Maradona but he had become Napoli's captain and I don't buy [other clubs'] captains," he claimed. Both men's memories of that meeting cast them in a favourable, noble light but the reality is that they probably just couldn't come to an agreement over money.
At the end of the day, in Italian football, when money talks, a player walks. That is why Higuain is on the verge of moving to Turin, with Juve having agreed a €90m deal with Napoli that will have far-reaching consequences.
Firstly, there is already heartbreak in Naples. Some Higuain shirts have been burned; others flushed down the toilet. There have been protests at the training ground, while Decibel Bellini, Napoli's cult hero of a stadium announcer, has already taken to social media to try to console his fellow fans, telling them  that "at times we fall in love with someone or something that, quite simply, doesn't want to be loved."
And that is the crux of the issue. Higuain is not seeking affection, fame or fortune in Turin; he craves only titles. As former Italy and Juve forward Paolo Rossi told the Gazzetta dello Sport on Sunday, "I don't think Higuain's decision us about money, but rather his desire to win, not just in Italy, but also in Europe." In that sense, Higuain's move to Juve makes perfect sense - for both parties.
The reigning champions' acquisition of the current capocannoniere would render the Serie A title race a foregone conclusion. That is almost a given. Juve have won the last five Scudetti. They ultimately won last season's by nine points - from Napoli, who are about to be stripped of their star striker - and that was in spite of the fact that they gave everyone else a six-point head start, after losing their first two league games for the first time ever.
Of course, there are no certainties in football but when it comes to scoring goals in Serie A, Higuain is as close to a guarantee as one can get. He has struck 71 times in just 104 appearances in Italy's top flight. He is thus the answer to Juve's search for a prolific No.9.
The Bianconeri haven't had a capocannoniere winner within their ranks since Alessandro Del Piero netted 21 goals during the 2007-08 season. However, Juve's objective is no longer merely domestic domination. They want to conquer Europe. With Higuain on board, that would be an entirely achievable target.
As Euro 2016 underlined, the Bianconeri boast the best backline in the world, one that has only been strengthened by the signing of Medhi Benatia from Bayern Munich. The loss of Paul Pogba will be keenly felt but Juve's plan to replace the Frenchman with a player like Axel Witsel or Nemanja Matic would at least go some way towards making up for the loss of power in the middle of the park.
Furthermore, while one world-class midfielder is set to leave Turin, another has already arrived in the shape of Miralem Pjanic, meaning Juve are in possession a player capable of prising opening the best defences in Europe for the first time since Andrea Pirlo's departure for the United States.
As for the attack, the prospect of Paulo Dybala working in tandem with compatriot Higuain is one that will strike fear to defences across Europe - and not just Italy. Indeed, Juve will have a starting 11 to rival any side in Europe, including Barcelona and Real Madrid.
Losing Alvaro Morata was a blow for the Bianconeri. The Spanish striker was a player of enormous potential. However, he was not yet the finished article. Higuain is – that is why the hearts of Juve fans are thumping right now and the hearts of their Neapolitan counterparts are breaking.