Let's do this by numbers, shall we? For the first time in four World Cups, Spain won their opening game.
Ferran Torres scored their 100th goal in the tournament's history and 18-year-old Gavi, one of two teenagers in the starting lineup, was their youngest ever goalscorer.
They were just two of six different scorers, Spain reaching that magical figure the vidiprinter spells out to avoid confusion and express wonder.
They had 16 shots, allowed none in return, and scored seven times. No wonder Carlos Soler celebrated getting the sixth in the 90th minute with a point and a wink that said: 'we're here'. Boy, are they.
There was still time for Álvaro Morata to add another two minutes later, Spain's No 7 getting Spain's seventh. Mi Gran Noche by Raphael, a gay icon back home, boomed round the place. It had been a great night, that is for sure, Luis Enrique left laughing, his team having presented their candidacy. Spain played more than thousand passes and, if the old question used to run "yeah but how many mattered?", the new answer looks like it could well be: all of them. Pointless? Not a bit of it. It is hard to recall a performance as complete as this.
"We were superb in every aspect of the game and I like the fact we dominated from the first whistle," Enrique said. "It was very special; everything went well."
From Costa Rica's point of view, it might be equally difficult to remember one as calamitous, an aged side mercilessly taken to pieces by kids. For Luis Fernando Suárez's team it began badly, never got better and could get worse. "Psychologically I'm really worried we won't be able to recover from this," he said.
Right to the end, Spain sliced away at them, leaving scars, something cruel about it.
Suárez had anticipated that Spain would have more of the possession, but not like this. By the end, they just wanted it to stop, but Spain refused. Sometimes intent is everything, and theirs was vicious.
The first of the seven arrived after only 11 minutes, and it could already have been the third. Dani Olmo and Marco Asensio had clear chances before Gavi's deflected dinked pass saw Olmo produce a lovely reverse spin, controlling and turning to slot past Keylor Navas. At that point Fifa's stats, which now allow for moments when neither team has the ball, said Spain had 79% of possession: 10% was contested, but those were contests the selección invariably won, an intensity to their excellence. Gavi, as usual, led the press.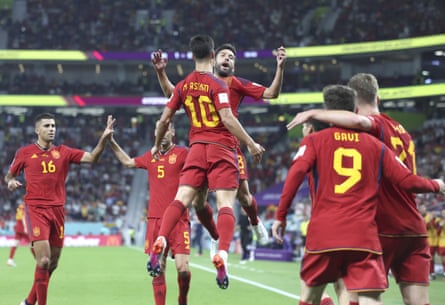 Marco Asensio (third left) celebrates with his teammates after scoring Spain's second goal against Costa Rica.
He and Pedri – the smooth glider who turns 20 on Friday – dominated the encounter. But then all of the Spain side did, a collective endeavour that was hugely convincing. The ball just kept pinging off the boot of Sergio Busquets, exactly where he wanted it to, no need for it to linger there any longer.
The wide positions, occupied by Olmo and Ferran Torres, were very wide, the pitch much too big for Costa Rica to ever get anywhere on time. Asensio was the false 9, mobile and always available.
And perhaps you could call Rodri a false 4, the Manchester City midfielder employed at centre-back but in those parts of the pitch usually occupied by the pivot. "The centre‑backs will touch the ball more than 100 times," Enrique's assistant, Fernando Torres, said. Rodri had 91 of those by half-time alone.
Spain, meanwhile, had three goals. Another long period of possession culminated in Jordi Alba again flying up the left, legs whirring. He found Asensio, who turned the shot in: 2-0 after 20 minutes, the pace was set. Navas might have done better, but he was not the only one: this was so one-sided as to be absurd.
All in white, ghosts, Costa Rica's players were not in the match or the match reports, nothing to say about them. They were there only as victims. Or, it turned out, perpetrators. Such as the moment when Carlos Martínez was bamboozled by Alba. Or the next minute when Celso Borges tripped Alba inside his penalty area.
Even the subsequent penalty spoke of superiority, a total mastery of everything, especially time. Ferran Torres paused, and rolled the ball in: 3-0 after just over half an hour.
By half-time, Spain had 85% of possession on the old measure. The surprise was that Costa Rica could claim 15%. The numbers were racking up fast, the goals soon at four.
This time, maybe, there was an answer to the inevitable question that asks whether a wild result rests on a team being really, really good or their opponents being bad. This time, Costa Rica could be blamed directly, Francisco Calvo kneeling before Ferran Torres, Bryan Oviedo unable to do anything either, an irretrievable mess allowing the former Manchester City player to score.
Spain made changes, Busquets and Alba off and protected, Ferran Torres departing to applause. Nico Williams replaced Asensio, and flew into his opponents. Soler came, too. Morata entered and immediately hit the side netting. The hunger was maintained – or even increased– the new men, boys, keen to be part of this.
An extraordinary 50-yard pass from the 20‑year‑old Williams led to Morata clipping a cross from which Gavi hit a gorgeous volley with the outside of his boot. Spain had five, and they still were not finished, continuing until they had completed the biggest World Cup win in their history, taking the total on their grand night to seven.
---