Emile Smith Rowe and Ben White may not be deemed ready for full England duty but they are doing a fine job of ensuring Arsenal state their case for a top-four spot.
A sixth win in eight unbeaten league games means a concerted tilt at the Champions League places, deemed unrealistic in most quarters at the season's outset, cannot be ruled out. This was not a performance of elite quality but, against rudimentary visitors who were primed to scrap and spoil, it was enough to suggest Mikel Arteta's players are developing the tools to overcome adversity.
Few sides will pitch up at the Emirates and offer as little quality as Watford, although their approach was not a million miles from bearing fruit. Recently Arsenal have ripped into teams by beating their press and tearing into the spaces left behind but Claudio Ranieri was not born yesterday, so the home side needed to pick their way through a congested, deep-sitting opponent and did not have things all their own way. But the home side found a way through and, during the latest pause in domestic action, fifth place in the Premier League will look more than satisfactory.
Arsenal deserved the points, although the manner of Smith Rowe's 56th-minute winner enraged Ranieri and he had a point. The division's oldest manager had strong words to offer the youngest, who was managing his 100th game, after the final whistle. He believed there was a "big foul" on Ismaïla Sarr by Ainsley Maitland-Niles in the buildup but also bristled that Arsenal had failed to return the ball to his players after they kicked it out to allow treatment for Ozan Tufan. The resulting throw-in led indirectly to the goal and Ranieri made his displeasure known.
"I told him there was no respect in that action," he said of the post-match confrontation with Arteta. "Everybody expected an Arsenal player to give back the ball. Give the ball to us, we kicked it out because there was an injured player. It's very strange."
Arteta brushed off the complaints and suggested Arsenal are more sinned against than sinning. "I have to defend my players, my team and my club," he said. "We think we are the most honest of all of them and at some stage we can even be naive. If he felt like that I have to apologise but I'm sure there was no intention to take advantage."
He preferred to linger on the outcome, which was nailed on after Smith Rowe swept past Ben Foster from 20 yards. Watford had half-cleared a cross but White, stepping up to intercept ahead of a flat-footed Josh King, regained possession 40 yards out. Slaloming runs have become a stock in trade for White, who has turned in a succession of majestic performances; he swerved past Juraj Kucka and, while Moussa Sissoko then halted him with a half-challenge, the ball fell nicely for Smith Rowe. The shot, struck first time, took a slight deflection and meant the playmaker has scored in three successive league games.
It came at the point when Arteta might have been tempted to use his substitutes but the manager felt his starting players were rewarded for their application. "It was clear we were going to have moments of frustration," he said. "You have to be consistent with the actions to win the match and we never lost sight of that, which is why we won."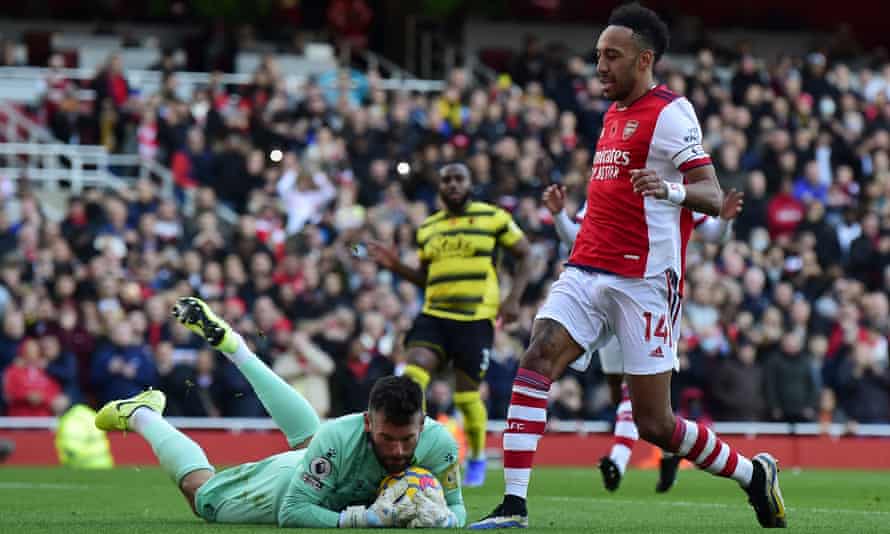 Pierre-Emerick Aubameyang's penalty is saved by Watford goalkeeper Ben Foste
At half-time Arsenal had every reason to feel twitchy. Their domination of the opening period had rarely brought clear chances but they should still have gone in ahead. Bukayo Saka thought he had deflated Watford within eight minutes, converting after Pierre-Emerick Aubameyang touched on, but the striker had been ahead of Foster and there was only one defender between ball and goal. VAR nixed the celebrations, which had been carefully choreographed between Saka and Smith Rowe, and an extended passage of scrappy, foul-strewn play ensued.
Danny Rose, who had a torrid time against Saka, inexplicably hauled Alexandre Lacazette down as he looked to tame Nuno Tavares' miscued shot. It was an egregious act of clumsiness but Aubameyang's penalty, neither down the middle nor in the corner, was superbly repelled by a combination of Foster's arm and trailing leg. An Aubameyang spot kick had met a similar fate in their previous home game against Aston Villa, but on that occasion he buried the rebound. "He will stay on penalties if he is happy to do so," Arteta said nonetheless.
Foster also saved well from Gabriel Magalhaes before the interval but could do little about Smith Rowe's strike. Watford rarely looked like responding, their only chance coming when King exploited hesitancy from White and Aaron Ramsdale but could only find the side netting from a tight angle. Kucka, whose ability to snarl and disrupt was largely effective, overstepped the mark late on and was dismissed. Arsenal's recovery, galvanised by their would-be international call-ups, gathers pace.
---