Suddenly there was Kylian Mbappé once again. With 45 seconds left, just when it looked as if victory had evaded a Paris Saint-Germain side that could have won
this match a lot earlier and three times over, he delivered the solution that they had sought all night. Dashing between Lucas Vázquez and Éder Militão, leaning one way and then the other, as smooth as he was swift, Mbappé dropped the shoulder and slotted through Thibaut Courtois' legs.

The release was immense at the Parc des Princes, where they could have been forgiven for becoming resigned to this moment never arriving, denied despite their dominance until that last magical moment. It took 22 shots, including a penalty that Lionel Messi had seen saved by Courtois, but at last the hosts had done it. It had been worth the wait and it had to be him: not just the man Real Madrid hope to sign but a footballer of rare gifts and the outstanding player here.

Alongside Courtois, that is. Madrid's goalkeeper had held PSG at bay somehow. The continent's most successful club are also its great survivors and, although the knife was eventually slipped in, they may reflect it is only one goal and there is a second leg to come, life to cling on to. They will have to play it without Casemiro and Ferland Mendy, both of whom were booked, but it could have been much worse. The surprise really was that it took so long for defeat to be inflicted upon them.

The first glimpse of Mbappé came with an elegant, fast turn away from Casemiro inside the opening minute that set the tone; the last came 93 minutes later.
In between those moments he had constantly run at a Madrid side who were often overwhelmed and may be accused of playing fearfully, but who held on. Nor was Mbappé alone as PSG took control. Messi dropped deep, as willing to play the first pass as the last; Marco Verratti and Leandro Paredes kept the ball moving; Ángel Di María was all over the place.

Mbappé prowled the left side, where Dani Carvajal was isolated and from where PSG created the chance that should have given them the lead, Di María shooting high over the bar from six yards out. Madrid could find no way out. One run forward just before the half-hour was the first time they got into PSG's half, a release of pressure as much as an actual attack, and their first effort on goal was the last touch of the opening 45 minutes, Militão heading wide.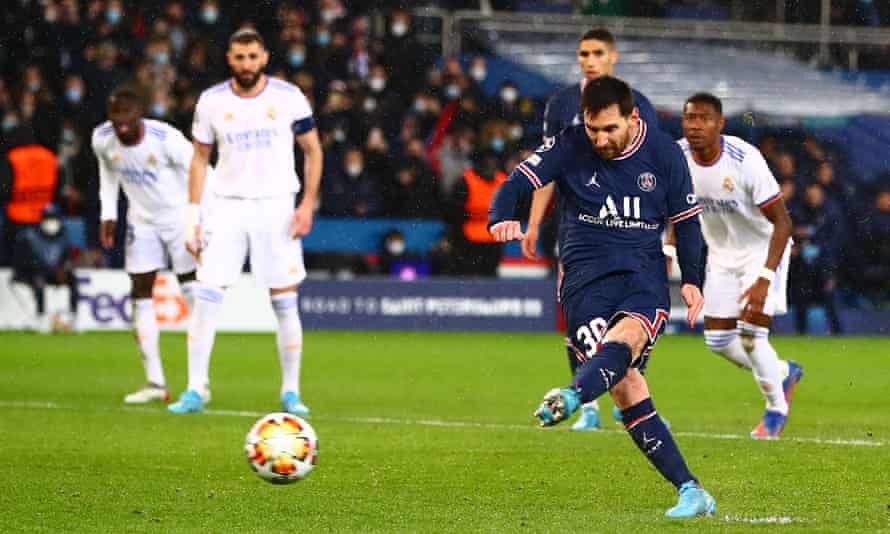 Lionel Messi fails to break the deadlock with his second-half spot-kick

The good news for Carlo Ancelotti's team was that, while Mbappé scared them, the threat palpable every time he had the ball, there were few clear chances. PSGs possession was up at 70% on 30 minutes but declined. The best opportunity came from a wonderful pass that Messi dropped behind the Madrid defence. With the ball sitting up and Carvajal pushing him in the back, Mbappé could not get a clean contact and Courtois made the save. From the corner he dived to repel the ball again.

By the break Casemiro's yellow card was the extent of the damage. Courtois ensured there was no further harm when he produced another of his now statutory miracles, diving low to keep out Mbappé as PSG began the second half accelerating again. Next Militão charged down a shot by Mbappé. Even if efforts from Mbappé and Messi were simpler saves, PSG were pushing. Madrid were forced back into their area, from where Militão blocked Messi before Mbappé was taken out by Carvajal for a penalty.

The defender's clumsy dive was a reflection of the threat Mbappé poses and how powerless Carvajal felt. His goalkeeper's dive was superb, Courtois flying left to save Messi's weak spot-kick. Still the ball would not go in, a flash of desperation when Messi took a shot off Paredes's foot a moment later. Something had to change and so on came Neymar, immediately dribbling round the referee and then winning a free-kick before combining with Messi, whose clipped ball just evaded Mbappé. Then Mbappé curled past the far post.

The Parc de Princes rose again when Messi dribbled through with five minutes left and slipped the ball into Neymar only for a clip over Courtois to float beyond everyone. And when Mbappé somehow escaped on the right and got all the way to the byline in the 90th minute no one was there to finish it.
It seemed that PSG's moment had gone. Somehow Madrid were still standing until, in the 94th minute, Neymar's backheel gave Mbappé one more go at bringing the house down.
---