"This will be an interesting game to draw conclusions about where we are," Ronald Koeman had said. The answer, as they suspected, was a long way from aspiring to win the Champions League. Thirteen months later Barcelona were beaten by Bayern Munich once again.
It was not eight, not this time, but it was not great. Two goals from Robert Lewandowski and one from Thomas Müller completed a 3-0 victory that was more about the visitors' overwhelming superiority than it was about the numbers.
Bayern ultimately eased to this victory, the final minutes played out to the fans ironically cheering a ball being thrown around the stands rather than one being passed around the pitch. As for shots on target, there were none. If Bayern had "only" seven, 16 in total, it was because they did not need more. Only very briefly had Barcelona been in this game.
"They're better than us, we're not going to hide that," Gerard Piqué said afterwards. "There's a difference between us right now. It is what it is; we are who we are here now. Frankly we're not among the favourites."
Bayern on the other hand are, with a variety and assuredness here that enabled them to ease up at times, allowing chances to come in their own time. Piqué insisted Barcelona would "end up competing", but they were unable to here.
There was not much optimism beforehand, Lisbon hanging heavy, and so it proved. And yet at the beginning of what proved a long evening the Camp Nou was noisy and momentarily enthusiastic, Sergi Roberto turning and hitting the first real shot over the bar. But those early signs did not last long. Bayern took a hold and were soon installed inside Barcelona's half, around their area and often inside it.
Although there were few clear chances, it felt as if that owed more to Bayern's willingness to wait and not to force it than to Barcelona's ability to keep them at arm's length. Leroy Sané was swift on the left, Jamal Musiala gracefully came inside from the right and Leon Goretzka stepped through a growing space in the middle. Home nerves grew and they became preoccupied solely with self-preservation. Forced right back, Piqué, Ronald Araújo and Eric García had to make interceptions while Ter Stegen pushed away a Sané shot.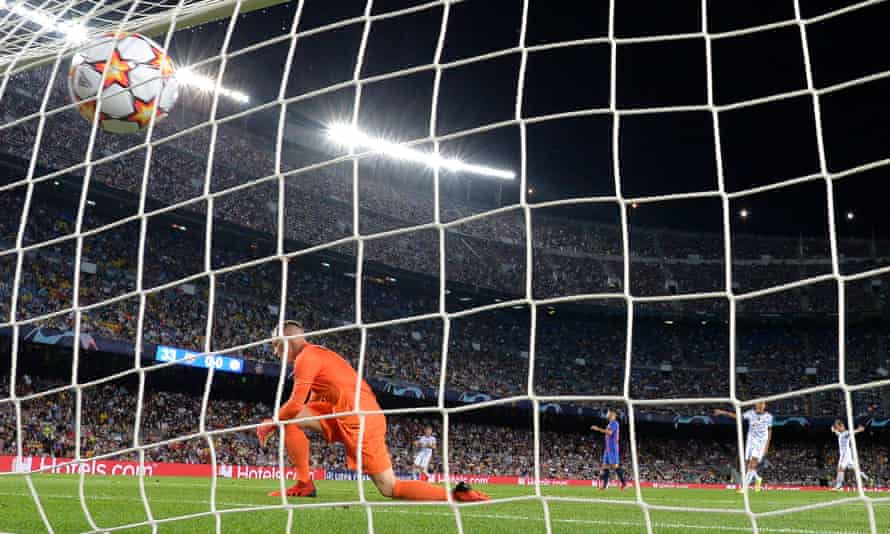 Marc-André ter Stegen is beaten by the deflection off Eric García as Thomas Müller put Bayern ahead. 
When the opening goal came, the finish was fortunate but the move was not: 16 passes were completed, the last of them exchanged at speed between Alphonso Davies, Sane and Goretzka to leave Piqué, Araújo and Sergi Roberto pulled out of position and Müller on the edge of the box. García turned his back and the shot went in off him.
The second half brought more. A neat one-two between Sané and Lewandowski led to the former Manchester City striker drawing a superb save from Ter Stegen. Barcelona's forwards were an island a long way in the distance and soon even Luuk De Jong was heading back to help the nine players clinging on within a metre of their own area, arriving just in time to watch from closer range as the second goal was scored. This time Musiala struck the post and Lewandowski guided in the rebound.
Whistles followed, especially when Sergi Roberto was withdrawn. Luuk de Jong, Busquets and García left early too, recognition that this game was already gone. The demands made of the men – the kids – coming on were simple from the fans' point of view: rebel against our fate.

Gavi, 17, and Yusuf Demir, 18, were received warmly. Philippe Coutinho, who was on the other side the night of the 8-2, drew applause for a blocked shot. Alejandro Balde, another teenager, joined them. There was a brief spark but then Bayern reasserted themselves, hitting the post again before Lewandowski left Piqué on the floor for a late third.


---