Eden Hazard has scored goals in three consecutive games for the first time in his Chelsea career, and Antonio Conte has revealed some of the secrets behind his success. 
Chelsea have won four of their last four league games without conceding a goal and will hope to continue their run against an in-form Everton side at Stamford Bridge on Saturday. 
Hazard suffered a difficult season last year under Jose Mourinho where he went 356 days without a goal in the league, but Conte gave an insight into why he is scoring more goals. 
"I think that Eden is playing now more close to the goal," Conte told a news conference at Cobham Training Centre. "He's participating more in offensive situations. I think it's better for him, this type of situation, which sees him staying in a position where he can finish easier compared to in the past.
"For this reason, I think and I want Eden to continue in this way. We know his talent. He's a fantastic player. Also, I found a player who is working very well without the ball, working very well with the team.
"This is very appreciated by his team-mates. The work of our strikers... It's important to continue that, with the same situation with Diego. They are working very well for the team. It's good."
The 25-year-old won the PFA Player of the Year in 2014 when Chelsea went on to win the Premier League title, but there were fears that his form might struggle to recover after his side slipped to tenth place last season. 
Conte says that he never doubted Hazard's ability when watching him before he became manager, but thinks that his attacker has plenty more work to do before he can be as good as Cristiano Ronaldo or Lionel Messi. 
"Who knows? [if he can reach Ronaldo or Messi's level] We all know the great talent of Eden. I think he must continue to work and to improve his talent, but in this moment he's putting his talent, putting himself, in the team. That is fantastic."
"It's the right way to become one of the best in the world. Now, if you ask me the difference between (him and) Messi and Ronaldo, I don't want to reply to this. The only thing I want is to work with my players and try and improve them, to support them in every moment.
"Because I had my own experiences in my career as a footballer, when you have a great talent it's important to support that with great form and good organisation and tactical aspects. If you find all these ingredients, probably you are a fantastic player.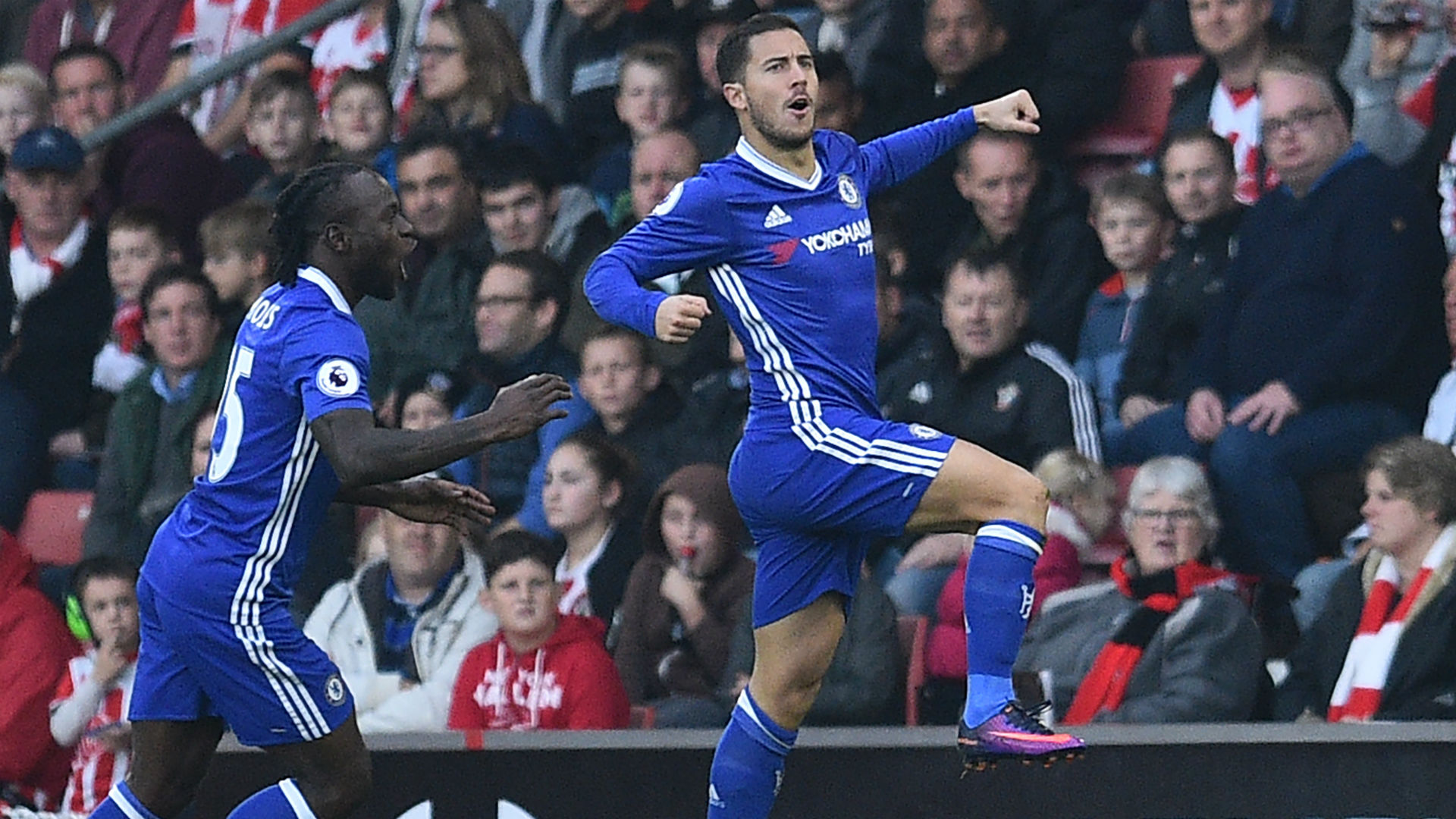 "I repeat: with only talent, it's very difficult to be the best. You must put together, with the talent, a good physical condition, and good organisation in the team. All this, to complete with the talent to become a great. A great footballer.
"I know Eden is a player with a great talent. A great player. I knew him against the national team very well, because we played a friendly game against Belgium and also in the European Championship. Now I'm pleased to see him every day and, above all, to have him in my team."
The Blues boss has been credited with putting a strict fitness regime in place to help improve Chelsea after criticism that the players weren't fit enough, as they recorded the Premier League's worst ever title defence last season.
Conte revealed some of his fitness methods that have helped turn Chelsea's fortunes in recent weeks, playing down the amount of gym work that his players do and explaining how he tailors individual training for each player.
"Yeah, the gym - we didn't go often. Our work, in principal, is on the pitch to work very hard with the ball, and also without it," He added. "Through our strength work. But if you think we go in the gym to lift weights, it's not so. We don't do that. Ever."
"We work in another way, above all in strength work with our coach for strength. When you put all this work together you support the players best. It's important this. For the coach, it's very important to find the best solution, the best situation, to improve the players."
"You start with the system. It's important to find the right system to exploit the characteristics of your players. Also, you have to find the right solution to work, to improve the players' physical conditions. But you must find the right way. It's important, this. Every coach must find the right solution for their players."